The LA ERUV relies upon a cooperative effort of the community to fund its operations.
Shuls that collect eruv dues with their membership only cover about half of the annual budget of the LA ERUV.
We are counting on you, the community, to raise the balance of our annual budget as part of our ANNUAL LA ERUV SHABBOS APPEAL.  So Please:
Send a check to Los Angeles Community Eruv
P.O. Box 351360
Los Angeles, CA 90035
TAX ID: 95-3287926
or use
Paypal@Laeruv.com
One-Time Donation
---
Please make a commitment to support the LA ERUV.
Member Level Donations
Member
Benefactor
Patron
Pillar
Builder
$54/year
$180/year
$540/year
$1,000/year
$5,000/year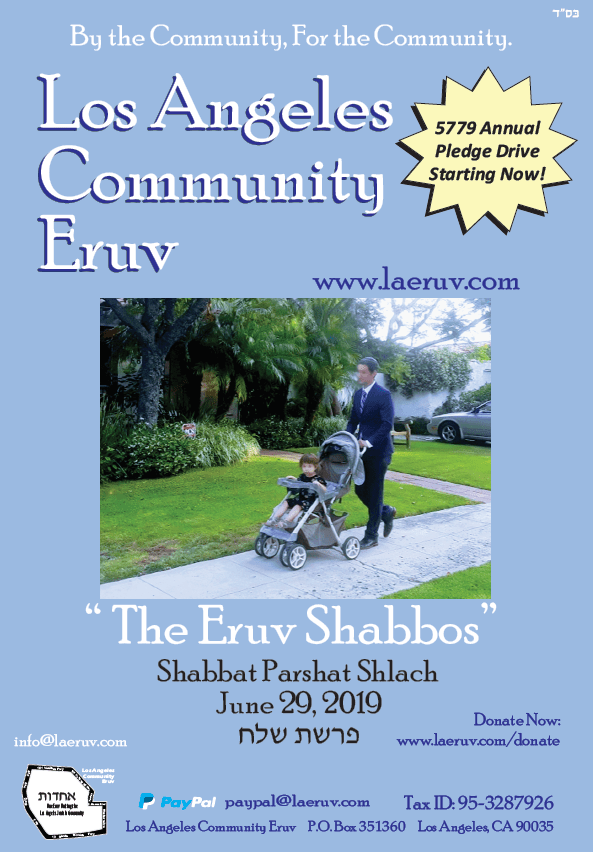 Having a simcha? Want to honor a loved one?
Sponsor a week of the LA ERUV for just $250.
(The above link goes to the weekly sponsorship page with a form for entering a date and other information about your dedication.)
Your dedication will appear:
on the LA ERUV website
in the LA ERUV status email
in the LA ERUV status Twitter tweet
on the LA ERUV Facebook eruv status post for that week
on the LA ERUV WhatsApp status text for that week
and will be mentioned in that week's LA ERUV Phone Hotline message
We accept payment via check, credit card, or PayPal.