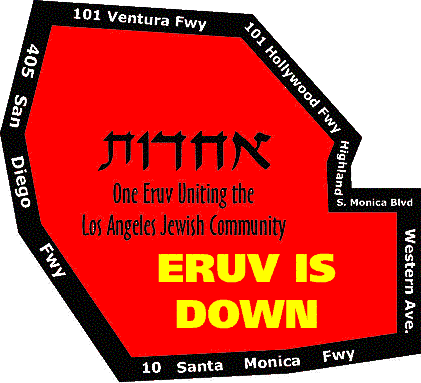 The Eruv is DOWN
September 16, 2012
29 Elul 5773
URGENT NOTICE: There will be NO ERUV on Rosh Hashanah or Sukkot this year because of the construction on the 405. You may still carry, but ONLY things which are needed for that day. Do not carry anything extra. That means no diaper bags stocked with extras. Only enough for the one day.
Please check your pockets etc. Please send gifts, wine etc for your hosts in advance. This will be an issue for Sukkot as well. Please plan in advance.
Also there will be NO ERUV ON YOM KIPPUR THIS YEAR. The construction cannot be halted for us. THAT MEANS YOU CAN **NOT** CARRY YOUR MACHZOR OR TALLIS. YOU CAN **NOT** BRING A STROLLER TO SHUL. PLEASE PLAN FOR YOM KIPPUR IN ADVANCE.
There will be no last minute fix. We have dozens of temporary walls that go up every Shabbos. None can be up on a construction weekday.
We are sorry for the inconvenience.